Sometimes, even short things in your life make you worried, and you get disturbed. Like, see for yourself as you might need to mount your Tv on a wall with a particular height, and you don't know how high to mount a tv on a wall? If you have got this worry, nothing should be troublesome for you because we have brought a TV Mounting Height calculator that is here to make you and help you mount your TV at your desired height on the wall. You have landed on the perfect place to get the answer regarding finalizing the size of your TV.
So, you can use the calculator below for different operations, and I am here to describe its every feature with deep detail. It will let you understand the functions and working of this calculator better. Therefore, it will be easier, and let's start describing this TV mounting Height Calculator.
Why Use The TV Mounting Height Calculator?
Mostly it becomes problematic for many Tv watchers to see their TV with perfect eyesight. Therefore, they always look for an easy method to tell them the required height for mounting a TV set on a wall. It's probably your general idealization.
However, it's always easier when you can measure things out, and for sure, you will be able to do so in this guide.
So, there shouldn't be a problem if you have decided to watch Harry Potter or a whole Money Heist show. You can use this tool for mounting your TV on the height you want to use.
Therefore, take the size of your TV screen, with the tilt angle it will make or create. This angle is also called the reclining angle making sure you can have two different names.
After recognizing the angle, you will easily measure that height without facing any problems.
How Much Higher You Should Mount Your TV? The Ideal Formula: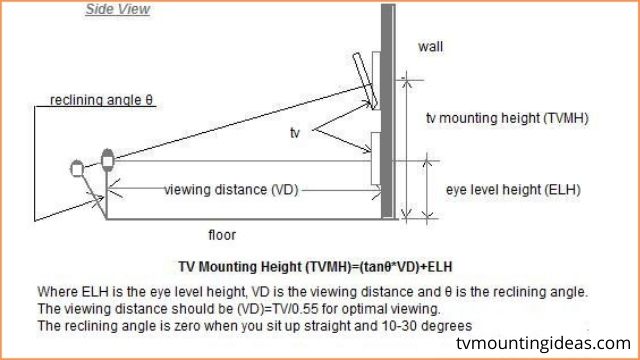 You can easily measure the height of installing a TV on a wall and ensure how high you need to mount your TV when you have the following formula.
This optimal TV height Formula is given as follows.
TVH = WH + HWD * tan(Φ)
Here, the following terms are used in the following ways.
● For TVH, it means the height ideally you will take for the TV mounting.
● WH stands for the height you will take for watching. It can also be stated that the eyes of those who are watching.
● HWD means the horizontal distance used for monitoring, and the Theta means the angle.
Here, we use the practical example of trigonometry in real life. This formula can also be derived by using the required and suggested trigonometric function.
It usually works with another triangle which is named the yellow triangle. Here, you will find the Tan, and everyone knows that the Tan stands for the tangent function in trigonometry.
How Can You Find The Required And Needed Height For TV Mounting?
It's a fact that the answer to how to hang a tv has already been answered. Despite this, you might be considering why an equation for TV mounting height remains the way it was.
I can tell you that the primary factor, for this reason, is the watching height. It is true that while watching the screen, you should consider that it is best when you are watching on the exact size.
At least make sure whenever your focus is straight, and you are being seated like that in the line.
However, suppose your head which will be straight to the watching, tilts a little whenever you are seated on a sofa Or any armchair. In that case, you should know that the ideal height of mounting a tv usually and naturally increases.
Now, you would be asking yourself how high you should mount your TV then? Therefore, here is the calculator I have given you for helping you through every thick and thin.
Here are some specific parameters you should know for mounting or measuring the height of your TV.
● When you see that the tilt angle has no value and is zero now, you can have an idea that the TV mount of the wall will be equal to the height-related to watching.
● However, if you assume the tilt angle is more significant than zero and usually comes between 10 degrees or 20 degrees, you can think that you would have three lines from the starting point of the right triangle.
● You can also take the horizontal distance you can easily find between the viewer( the person who is watching) and the TV being watched. There must also be the one from eye-level and center of the TV.
● Plus, there is another one you can find and approximately it is between you and the TV screen.
● You also need to make sure that the ratio you will have between the horizontal and vertical lines equals the tangent of the tilt angle.
Therefore, the additional height you could have more than the eye level is given with h = HWD *tan (Φ).
To find the total height, you should take all the values together, and this will give you precisely the ideal TV height formula by using the last procedure and post.
I can make sure that now you are entirely aware of using this TV mounting height calculator if you have read all these steps carefully.
Therefore, it shouldn't be a problem with you using this calculator anymore.
TV Mounting Height Calculator
Frequently Asked Questions:
What Is The 32 Inch Tv Wall Mount Height Calculator?
A 32 inch Tv wall mount height calculator gives you the exact height you need to place your TV if you have a 32 inches large screen.
There is no problem with using this calculator because you will have the best tool to measure the exact height for this size TV.
So, you can use a TV height calculator and make your life easier.
How High Should A 65 Inch TV Be Mounted?
You can use this TV mounting height calculator and place your 65 inches height calculator at your desired height without any problems.
The plus point is, you will be able to place it at an approximate distance of 110 inches from your eyes on the wall.
Final Take:
We hope you loved exploring this article I have presented on a TV mounting height calculator to make you quickly measure the height and distance of your TV on a wall at which you wanted to place it.It must be simple and easy to use because there are no hard and fast rules you would be following anymore.So, just put the values and make your life easier while mounting your Tv on your wall. It is simple and easy!
If you want to learn more about TV mounting ideas or related informational content then please visit here.