I still remember that feeling when I had to remove my Lg tv from the wall mount, which became difficult for me. But I won't let that happen as I did it anyway. Stay with me till the end, and I will help you learn how to remove LG tv from wall mount in this guide. Let's get back to work!
Read More: Cost To Mount TV On Stone Fireplace?
Why Would You Like To Remove Your LG Tv From The Wall?
For sure, there could be many reasons for removing your LG or any other tv from its pre-installed place.
In most cases, when you renovate your house, you do this. Or it could be a case of conversion of wall mount to the tabletop system.
You might have bought a bigger TV, which could be the latest news and therefore, you are looking for ways to dismount the old one from its place.
No worries; whatever the situation is bothering you to remove the tv from the wall, it will be fixed and solved.
I still remember removing my tv because I had bought a new and a bigger one. It was a bit technical, but a good job.
Can You Dismount Your LG Tv From The Wall?
Most TVs or LG TVs come with plug-and-pull wall mounting systems. There, a person just has to pull the tv out and lift it.
Therefore, there is no tv that you cannot dismount or remove from the wall in which it is already mounted.
But in this tutorial, I will especially teach you about the LG tv removal from its place and dismounting it with full care as well as protection.
So, How Exactly Do You Remove LG Tv From Wall Mount?
LG TVs mounts are not hard to understand, and no technical knowledge is required to dismount them. In short,
To remove an LG tv from the wall, examine the type of wall mount on which it is installed. If it is tightened with the screw, take a screwdriver and unscrew it.
And if it is installed on a locking mechanism, it can be removed or dismounted by gently pulling out and lifting up. Be careful and take it second hand if needed.
Simply, you have to figure out the exact type of mount on which your tv is built and installed. If that is done, your job to dismount it will take no longer.
Step By Step Process To Remove LG Tv From Wall Mount:
In the below steps, I will explain how you can easily remove the LG tv from the wall mount. Please have a look!
Step 1: Turn Off Your LG Tv And Make Sure Of Zero Current:
You don't wanna play with the wires and electricity while dismounting your LG tv if it is already connected to the main power source.
Just be a nice guy and unplug the wire from the socket-outlet that gives current to your Tv. Once this is done, the tv will be turned off, and there will be no fear of its current.
Step 2: Remove The Extra Cables:
We have a lot of cables connected with our home TV sets, including cables like VGA, Display, HDMI or USB, etc.
If you have the same case, you need to remove them because there shouldn't be any problem of delay and slow removal of the tv from the wall.
When the cable is removed, you are good for the next step.
Step 3: Gather Some Essentials:
It would be better if you had taken care of certain things and tools and already collected them before dismounting that LG tv. You need some stuff like
A blanket or a sofa where you can put your tv after dismounting will be a safe place to avoid scratches and damage.
Ask a friend to help you and assist you while you are dismounting your tv.
A user manual if you get stuck at any point while removing the tv from the wall
Step 4: Examine Your Type Of Mount:
Now, take a narrow inspection of what type of mount it is on which your LG tv is installed.
Sometimes, it's gonna be the one for which you might have to use a screwdriver and unscrew it from the backside of your tv.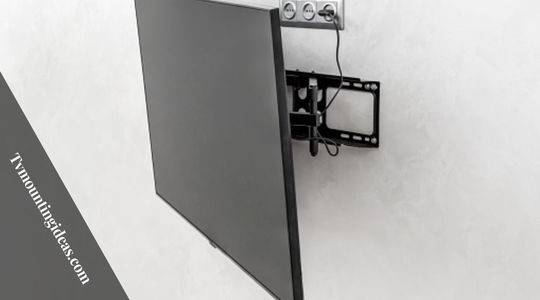 But in most cases, we have a locking mechanism tv wall mount. This one works so well, and you usually remove or dismount your LG tv from it, as described in the next step.
Step 5: Dismount Or Remove Your LG Tv From The Wall:
In this step, you can finally learn how to remove an LG tv from that wall mount on which it is already mounted and placed.
To do that, you can ask your friend to be close to you. Look for any looking system as if it is holding the Tv in its place. If you find any, unlock it.
Once you have dealt with it, place one hand on the upper side and one hand on the bottom side of your tv on both sides.
Lift it, and the tv will be removed from its mounting position. That's all it takes to remove the tv from the wall mounting!
Once the tv has been removed, use that blanket or quiet space to place it there.
Because if you will just do that, the tv will not have problems like damaging itself or facing scratches of any kind.
Ta-Da, you have done this. Your tv will be off from the wall and placed on a sofa or any desired place in the house. You can also remove its mounting bracket if you want to.
But that's all that will require to do this task.
Read More: How To Lift A Heavy Tv To A Wall Mount?
Wrapping Up—–
However, you can always ask in the comment box if you get stuck on something. I am here to listen to your queries and provide you with the needed answers.
But thanks for being here, and I hope you know how to remove LG tv from wall mount.
Keep watching your favorite entertainment, and I will always be helping you with some more tips and tricks!
Read Other Articles: How To Remove Bezel From Samsung Tv? | Let's Find Out! How To Mount A Large Tv By Yourself? | Follow Comprehensive Guide! How To Lift A Heavy Tv To A Wall Mount? | Find By Yourself! Samsung Frame TV Mounting Options | What To Consider? Cost To Mount TV On Stone Fireplace? | Let's Figure It Out!
Did You find Helpful This Post? Share with other