Is it difficult for you to hang your Sony Bravia tv on the wall? We understand that Sony Bravia is a Giant LED tv and fixing it against the wall could be a lot of technical jobs. So, be here, and I will teach you how to hang Sony Bravia tv on wall with an easy step-by-step process.
Read More: How To Remove Bezel From Samsung Tv? | Let's Find Out!
Can You Hang Your Sony Bravia Tv On The Wall?
Whether you have the Sony Bravia Tv or any other model from the same brand, you can easily hang or mount it on the wall.
But, it could not be easy to do if you are not aware of the specific instructions to follow the guidelines; you can easily achieve these goals.
So, is setting up your Sony Bravia Tv okay when you know how to do it?
How Do You Hang A Sony Bravia Tv On The Wall?
Setting up the Sony Bravia Tv on the wall is simple and a quick job to do. You can always hire a professional service provider to do this job only if you think you cannot do it.
He may charge you some bucks. But after a while, you will be able to see your tv being hanged and mounted on the wall you have specified.
In short, unbox your new X90C Sony Bravia tv and keep all the tools and the tv itself on a table. Take the installation manual and observe it. You will need to place the U-Shape bracket behind the Tv first. Then you can mount the wall bracket and take second-hand help to put this tv into that bracket. Insert the securing screws, and you are good to go.
But that's not how you can understand this process. Please follow the next section to have a more comprehensive understanding of this procedure.
A Step By Step Process To Hang Sony Bravia Tv On The Wall:
Get yourself on the job, and let's help you with hanging the Sony Bravia Tv on your living room wall. Here It goes.
Step 1: Unbox Your Bravia X90C Brand New TV:
Bring your brand new purchased tv to the table and open the box. You will get the Tv and its relevant parts inside the box.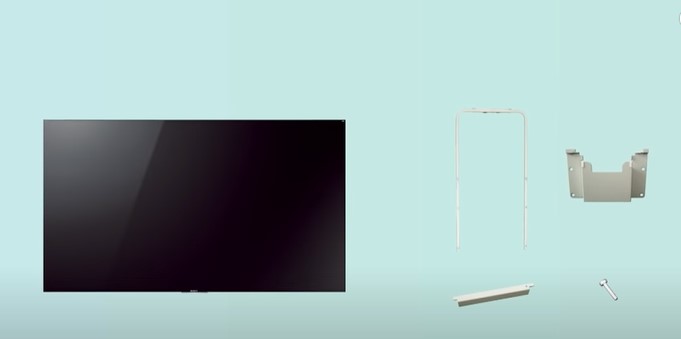 The relevant parts include a U-Shape Bracket, a wall mounting bracket, a couple of screws, and an instructional or installation manual.
That's all you need to see your new tv on your favorite wall.
Step 2: Turn The Other Side Of Tv And Un-Screw The Screws:
When you look at your TV's back, you will find four screws mounted. You need to use a screwdriver and unscrew them.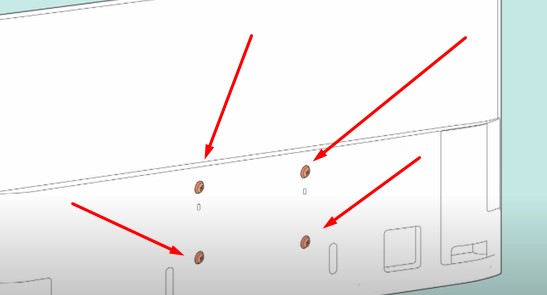 After these screws are unscrewed, take that U-Shape Bracket and fix it in those screws. After placing the bracket behind the tv, use the screw again and fix them firmly to keep the bracket in its place.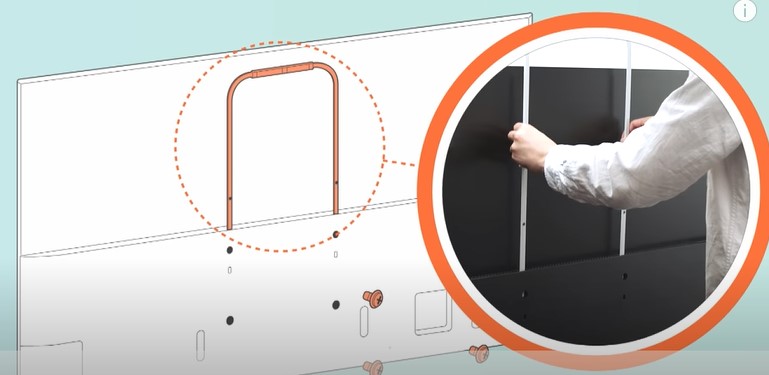 Step 3: Fix The Wall Mounting Bracket:
Now, please return to the wall mounting bracket and fix it to the wall of your room. Take a drill machine to drill some holes in the wall.
Then use a screwdriver and screw the wall mounting bracket where you want to install your Sony Bravia Tv.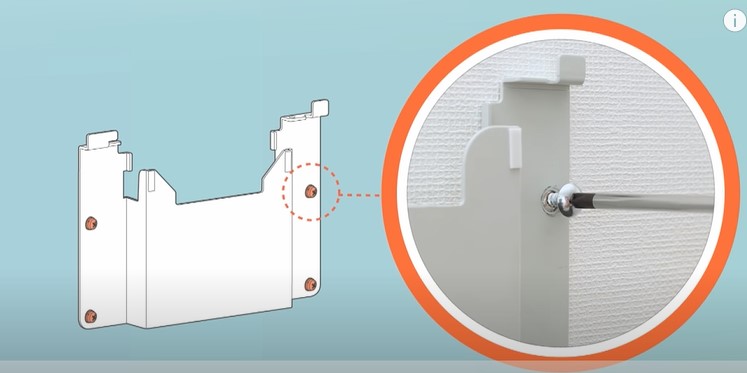 Always mark the right positions on the wall to fix these screws accordingly. Otherwise, you may not be able to do that correctly.
Step 4: Put Your Tv On The Bracket:
At this point, you might need a second hand to put the tv on this wall mounting bracket.
Just hold the Tv with enough support and place or inject that U-Shape bracket into the wall-mounted bracket as shown in the below picture.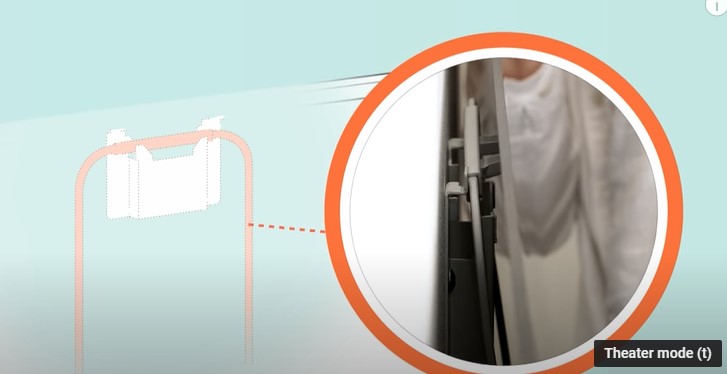 Now, when the tv is on the mounting bracket, go for the next step and keep that Tv fixed over there.
Step 6: Attach The Locking Plate:
You will also get a simple and small locking plate that you need to insert at the top of the wall-mounted bracket.
Do it, and the plate will get fixed in no time.
It will provide a strong grip on the mounted device and ensure that your TV stays safe on the wall.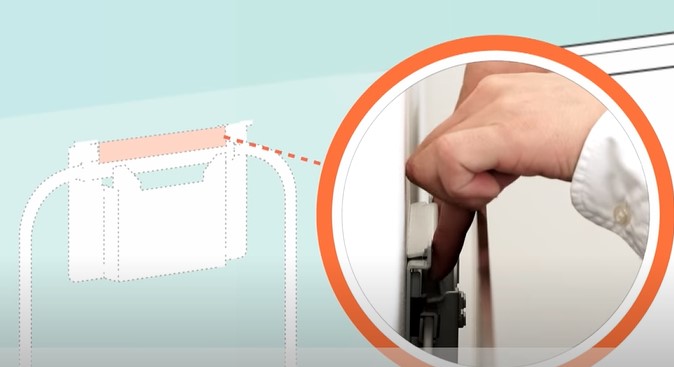 Step 7: Fix The Nuts And Affirm The Locking:
Here, in the last step, you will have some nuts to fix on the plate so that your tv should always stay strong. Fix them, and you will not have any problems regarding falling or other issues.
Successfully, this tutorial will make you and help you hang your Sony Bravio Tv on the wall with all the perfect details and notices. However, if you get stuck somewhere, let me know how I can help you.
Frequently Asked Questions:
Where To Get Sony Bravia 32-Inch Wall Mount Instructions?
Consider opening the box of any tv of any brand, and you will have the installation manual in the box. If that doesn't happen, consider visiting the official website of the brand which tv you've purchased. That will help you get the wall mount instructions for 32 or even 85 inches tv.
Can You Hold Your New Sony Bravia Tv On An Old Bracket?
No, sometimes, it is not possible because of multiple reasons. The thing is, those brackets couldn't be worthy of holding a new tv. They might not match the size, or sometimes they are not in a position to hold the heavy weight of your new tv. So, always consider buying some new ones.
How Much Does It Cost If You Hire A Professional For Sony Wall Mount Service?
Usually, it might cost you $100 to 200 bucks if you hire a professional person and asks him to do this job for you. But if you know exactly how to finish this job, you can do it yourself. There is nothing difficult in it.
Read More: How To Remove Samsung Tv From Wall Mount? | 5 Easy Steps
Wrapping Up:
Usually, it takes up to 10 to 20 minutes to hang your Sony Bravia Tv on the wall with all the instructions you need to follow. So, I hope you have learned how to hang Sony Bravia Tv on wall with perfect details if you have read this article. Let me know if some further queries pop up in your mind. Have a nice day!
Read Other Articles: How To Remove Sony Tv From Wall Mount? | Let's Learn! How To Remove LG Tv From Wall Mount? | Learn In 5 Steps How To Remove Bezel From Samsung Tv? | Let's Find Out! How To Mount A Large Tv By Yourself? | Follow Comprehensive Guide! How To Lift A Heavy Tv To A Wall Mount? | Find By Yourself!
Did You find Helpful This Post? Share with other