The TV can be placed in multiple imaginary and decorative ways in a living room with a fireplace. But that's just a concept if you cannot meet the reality. In this guide, I will share some ideas for tv placement in the living room with fireplace and let you know how you can install your brand new or old tv in a living room with perfect decoration. Please keep reading!
Read More: How To Mount A Large Tv By Yourself? | Follow Comprehensive Guide!
Top 10 Ideas For Tv Placement In A Living Room With Fireplace:
Considering your worries, I've summoned the top 10 best ideas. With the help of these ideas, you can elegantly design and style your living room with these ideas.
So, let's dig into all of this one by one and find out what you can do differently.
Idea 1: Above The Fireplace:
There cannot be an any better place than seeing your brand-new TV above the fireplace in your living room.
Yes, that would be the best place and easily accept your tv without losing any motive of attention and focus.
Having a tv in this kind of place lets people enjoy a warm space with the perfect source of entertainment. You can create something like this, as shown in the picture inside your living room.
Idea 2: Opposite To Fireplace:
What if you cannot put the tv on a fireplace because of lack of space and considering other problems?
Find a place that should be directly opposite your living room's fireplace. It means having the tv on one side and the fireplace on the other.
That would be a good way of receiving warmth from one side and entertainment from the other side.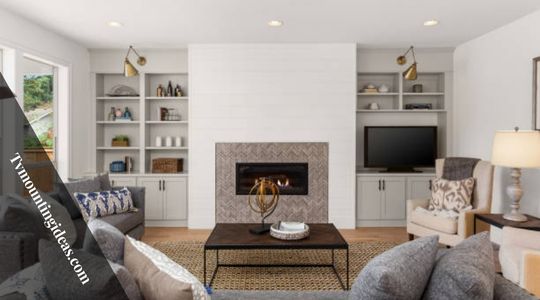 Idea 3: Placing Tv Beside The Fireplace:
Consider finding a nearby place to your Fireplace in the room if you cannot meet the above conditions. You can place the TV beside the fireplace and arrange whatever you want.
Such placement in a living room with a fireplace is not very complicated. And it also doesn't require much adjustment.
In order to enjoy both the fireplace and television, consider situating the sofa and your other furnishings on the opposite side.
Idea 4: Place Tv At Foldable Doors:
Some television sets are usually not designed with an aesthetic idea. These may detract from the overall look of your living room.
Do you have any pair of cabinets in your fireplace room that is empty now? Consider finding those and hiding your tv in them. Close the cabinet and open it when you need to watch the tv.
In this way, you will also fulfill your desire to watch those most favorite movies on Netflix, and nobody will judge whether you have a tv in the room or not.
Idea 5: Try Placing Your Tv In An Alcove:
If you have that freedom of personalization in your own way, consider putting the tv in a nook or hollow wall.
It will not only appear a little better than a traditional fireplace, but your tv will also get an extra layer of protection when you do installation this way.
So, whenever you are creating your living space, consider putting some floating cabinets or shelves in that room, as these will be ready to serve you with some extra space whenever you need them.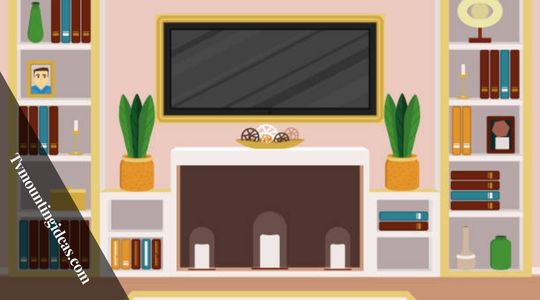 Idea 6: Create An L Shape With Your Fireplace And Tv:
Consider creating an L Shaped Furniture arrangement in your living room when that room is not long enough and you don't have wall space. It will be a better location to set your television in the room.
While creating this L Shape room, you can place the Tv and Fireplace on perpendicular walls. Besides, it's all on you to arrange sofas, seating cautions, and other furniture inside the room.
Idea 7: Why Not Having An Out Of Ordinary Location?
There is nothing that would compromise that your Tv on the fireplace must be symmetrical.
Because if you usually have a tiny or unusual area, you can easily put your tv over there. At that moment, always consider putting the tv on the left or crosswise side over the fireplace. That will make the most of your living room experience.
Idea 8: Placing Tv With Viewing Angle Adjustments:
When installing a tv on the fireplace, the exact height and viewing angle are always concerned.
You should have to take a closer view and set your tv only at a specific height which shall be easier to see with your eyes.
Therefore, in the living rooms, all Tv sets must be placed at an exact and easy viewable eye height.
However, if your living room possesses a benchmark fireplace, doing something like this could be a little impossible.
But there is a solution. Because you can always install your tv on a mounting system to enjoy maximum flexibility and a comfortable viewing experience.
That's only when you are more concerned about your neck-straining problems.
Idea 9: On A Different Wall, Fireplace, And Tv:
It literally doesn't matter if you don't have more space to arrange a tv and a fireplace in the same place in the room.
Because you can make the most of it by using all walls. For this, what if you just put the tv on any other wall of the room except the one in which your fireplace is stuck?
That would be a better idea and look extremely gorgeous.
Idea 10: Create Bold But Must Be Welcoming:
Orange is something that is always a difficult hue to work with. But when it comes to success, the design has no comparison.
There is no way that can define your place as an old one. Because it will be designed with current minimalist components.
So, what else is taking so long, and why don't you consider creating something like this?
Read More: How To Lift A Heavy Tv To A Wall Mount? | Find By Yourself!
Bottom Line:
Conclusively, these top 10 Ideas For Tv Placement In Living Room With Fireplace will work just fine if you would apply any of these.
You can design your room according to your perfect desires and take help from more unique designs on Pinterest.
However, your queries and suggestions are welcome. Have a nice day!
Read Other Articles: Can You Put The Frame TV On A Swivel? | Let's Figure Out! How To Hang Sony Bravia Tv On Wall? | 7 Easy Steps! How To Remove Sony Tv From Wall Mount? | Let's Learn! How To Remove LG Tv From Wall Mount? | Learn In 5 Steps How To Remove Bezel From Samsung Tv? | Let's Find Out!
Did You find Helpful This Post? Share with other