Samsung brings some exceptional Tv sets for all people all over the world. That's why they need special assistance and professionally instructed user manuals for mounting and removing from their place. In this guide, we'll look into how to remove Samsung TV from wall mount through a small process. Please keep reading until the end.
Read More: How To Get Terrestrial TV On Samsung Smart TV?
Is It Possible To Remove Samsung Tv From Wall Mount?
Before you start serving your time in something like this, you should find out whether it is possible or not.
Samsung provides wall mounting kits for different-sized TVs so that consumers may have them installed on their walls.
It saves space and provides versatility when it comes to having the best place to keep a tv in the room.
Therefore, if you have a wall-mounted Samsung Tv, removing it will not be a problem at all.
However, you should have to take care of some important things that I will explain in this guide.
I have my own Samsung Tv wall mounted, and I will do it for you. How can you easily remove it without facing any complications?
How Do You Actually Remove The Samsung Tv From Wall Mount?
Removing a Samsung Tv from the wall mount is not something technical to do. But just be careful while doing some things with this part.
You have to be sure that the TV stays safe, and you should keep it on a comfortable surface away from getting damaged or scratched.
To remove a Samsung tv from the wall mount, unlock it if it is connected with any sort of locking mechanism. Once done, be easy and take the secondhand help if needed to tilt it up using both hands. It should be done easily, nicely, and carefully. Once done, place the tv on a comfortable surface such as a sofa or bed.
So, this is how you will remove the Samsung tv from the wall mount. But that's all stated in short wording. Below, I am sharing a step-by-step guide to completing this job!
Step By Step Process To Remove Samsung Tv From Wall Mount:
This procedure is only for bigger and giant-sized Samsung Tv sets. Because removing or installing those smaller units is not a problem at all. You can do that pretty easily, right?
Just in case you have made it up this far, please read the steps below to understand how you exactly remove the Samsung tv from its wall mount!
Step 1: Turn Off Your Samsung Tv:
Before starting, ensure that no electricity must be flowing through your tv set. Doing something like this on an on or turned on tv is not something you would like to do.
Because for sure it is a risky process and for that, the electricity wires must be pulled off, and the tv shall be turned off completely.
Step 2: Remove Wires From The Tv:
In this step, if there are any cables like Dish Cables, HDMI, another display, VGA, or any USB cable connected with your Samsung tv, you have to remove them first.
Because these will be connected to your tv, you might face some issues.
You may stick in the middle of performing this procedure if you haven't disconnected your Tv cables and removed them completely off.
Step 3: Learn The Mechanism For Removing TV:
Before you put your hands on your tv set, you should understand its mechanism as it is mounted on the wall.
A large Samsung-sized TV is usually mounted on a mounting bracket or system like this. It simply pulls on the outside, and you can tilt or lift your tv up from it.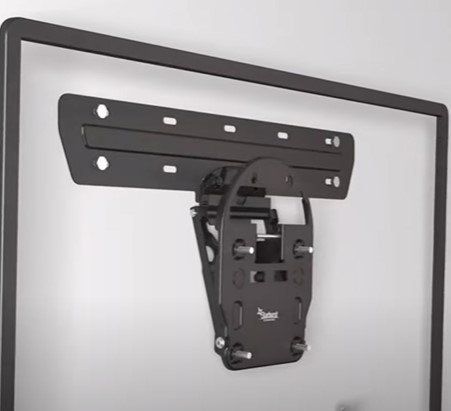 Step 4: Remove Your Samsung Tv From The Wall Mount:
To remove your Samsung tv from the wall mounting, look at the picture below. Here, in the first attempt, you will have to pull this system out.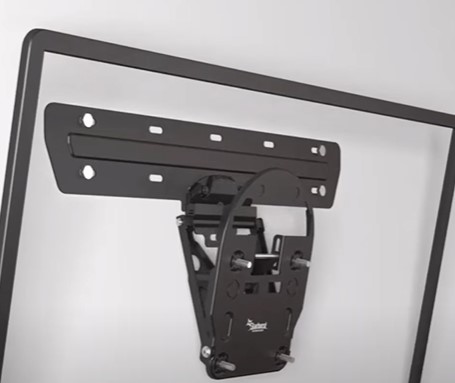 After pulling it out, you can just lift the Tv up.
Your tv is basically locked in this place as marked with the arrow. When this gets pulled out, you can easily remove the tv from it, and then you can remove it from the mounting!
Step 5: Taking Help If Required:
You can always add a second person if the Tv is of large size and it is difficult for you to lift it alone.
The best way to do it is to give it the support of hands on both sides from the bottom, pull it out, and lift it up.
You may hear a cracking sound while doing something like this because the tv will be clogged into this mechanism.
Step 3: Place The Tv At A Comfortable Space:
Once the tv has been removed, try placing or putting it on a peaceful place like a sofa or something else. Because if you do that, it will stay safe from damage and scratches.
So, this is how you deal with removing the Samsung tv from the wall mount. Things are simple and quick to understand.
Another way of doing this could be seeing the instructions on the user manual provided by the Samsung Tv brand. This will also reveal everything to you!
How To Remove Samsung Tv From No Gap Wall Mount?
When the Samsung tv is mounted on the wall with no gap between the tv and the wall, this is the mechanism it would have been using.
All you have to do is to pull the tv off gently and lift it from its place. Within a couple of seconds, the tv will be in your hands. But consider taking the help of your friend to complete this job!
Read More: Samsung Tv Not Finding Channels | How Do You Fix It?
Final Thoughts:
Conclusively, it's all the game of pulling out and lifting the Samsung tv from its place to remove it from the wall mount. You don't need to take it so seriously. Because it will be done even without following these instructions.
However, being careful and guided is always preferred. So, let me know if you have some more queries to ask on how to remove the Samsung tv from the wall mount.
Thanks for reading. Have a nice day!
Read Other Articles: How To Remove Tv From Swivel Wall Mount? | Step By Step Guide How To Mount A Large Tv By Yourself? | Follow Comprehensive Guide! How To Lift A Heavy Tv To A Wall Mount? | Find By Yourself! Samsung Frame TV Mounting Options | What To Consider? Cost To Mount TV On Stone Fireplace? | Let's Figure It Out!
Did You find Helpful This Post? Share with other