Do you have a large tv and you are looking for how to mount a large tv by yourself? No need to search more because you have arrived at the best place for that. Today, in this guide, I am gonna teach you the easiest procedure that you can apply for mounting a large tv by yourself. There is nothing to worry about if you know the usage of certain tools and the installation manual. Things work prettily in your way when you are bound and keen to make them work so.
Therefore, decide to spend your day with me as if you will, you will learn completely about how to mount a large tv by yourself. Let's get started!
Also Read: How To Measure A TV Without A Tape Measure? | 3 Different Methods
Can You Really Mount Your Large Tv By Yourself?
Saying yes to this type of question won't be appropriate because you know that if the tv is large, you will need a second hand. This hand could be the hand of your friend, your partner, or anyone else living inside your home.
However, as far as the mounting is concerned, you can do it all by yourself if you know the methods and ways to use the tools just in the same order as prescribed by a professional in a guide.
That's why the guide is here to give you all the necessary details on how you can mount a large tv all by yourself. Please take a look!
Step By Step Process To Mount A Large Tv By Yourself:
Finally, you are at the step-by-step process that will guide you on mounting your tv to the wall, even if it is a large one in size. Please follow the steps below to make things happen.
Tools And Gear You Need:
It's a truth that you will be the guy mounting your own tv all by yourself. You should have some handy tools so that you can do the job easily. These tools are given as follows.
Get a pencil to mark things.
There should be a Level.
A screwdriver is also included.
Get a Power drill.
A stud finder will also be required.
Tape measurement is also needed.
Your Tv mounting kit to mount the tv.
Now, if you have gathered these essential tools, let's look at how you can mount your bigger tv all by yourself through some easy steps.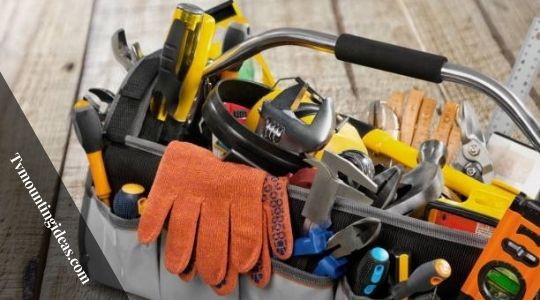 The Mounting Bracket That Should Fit Your Tv:
That's unfortunate because you will not find all the brackets fitting your tv. Therefore, you should always look for the one most compatible with your tv.
However, you can find the one easily when you know exactly the VESA measurement of the tv you have purchased.
It must be written inside the instructional manual. It will let you understand what mounting bracket you would be using. You can also measure the VESA all by yourself.
The Place Where You Wanna Mount Your Tv:
You should find the best place for mounting your TV. This location would be your desired one inside the living room or any other desired place.
Moreover, depending on the location, you should also be concise on the type of wall mount that you would need to make things work.
Attaching The Bracket To The Tv:
Before you start putting it on the wall intentionally, you would need to locate the given mounting holes towards the backside of the bracket. Locate them and attach your mounting arms.
You can also use the bolts that are provided inside your mounting kit. However, never go tightening them pretty much and do not use the drill machine on TV.
Attaching The Tv Attached Bracket To The Wall:
Once the mounting bracket is attached to the tv, you can find its place on the wall. Now, you would need to use a stud finder to use it to locate the studs inside the wall.
These studs will be responsible for holding your tv.
Use a pencil and mark the locations on the wall. Moreover, use the drill machine to attach the wall bracket plate.
Again use the bolts and screw them into the wall. These bolts will be given inside your mounting bracket.
Connecting The Cables:
If you have chosen a certain wall mount, it is time for you to have and make some creative ways for connecting and hiding the cables from the view.
It is a truth that if you get a fixed wall mount, this procedure will become easier.
However, you may need to get another pair of hands and a little help so that you can do this thing.
In this way, one person will be holding the tv, and another person will be connecting the cables to the wall.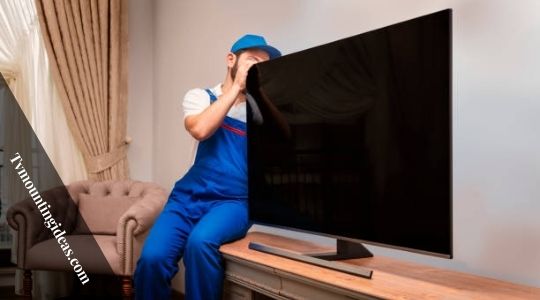 Place, Or Mount Your Tv On The Wall:
It would be better to get a second hand for mounting or attaching your tv to the wall because this is gonna be a little sensitive and complicated.
You may end up having a broken tv. In this case, you can take the responsibility of interlocking the brackets. And the other person can help you hold the tv.
However, don't be careless about letting the tv go off. You have to take care of this thing until it gets attached to the wall and is firmly connected.
Testing The Installation:
Once the installation is finished, make sure that everything is working properly. However, if this happens, you might want to make some adjustments. For this, you can follow the manufacturer's instructions from the starting point to the ending point.
Also Read: How To Remove TV From Omni Wall Mount? | Follow Easy Guide!
Final Thoughts:
Learning how to mount a large tv by yourself is not a difficult job to do when you know all the needed guidelines to perform this thing. However, if you find yourself struggling at any point, you can use the comment box and let me know. I am here to answer your queries and provide you with the needed information.
Overall, thanks for spending time and giving value. Have a blessed day!
Read Other Articles: How To Lift A Heavy Tv To A Wall Mount? | Find By Yourself! Samsung Frame TV Mounting Options | What To Consider? Cost To Mount TV On Stone Fireplace? | Let's Figure It Out! Samsung Frame TV Wall Mount Template | Get It From Here! Samsung Frame TV 65 Installation Guide | How To Learn It?
Did You find Helpful This Post? Share with other