If you are thinking or planning to install your large dream tv inside your tv room over the wall, you might be looking for how to install mounting dream tv mount? Installing a tv on the wall is not a big deal when you know all the necessary steps to complete that process. There comes a little technical and mechanical work, and the rest, you will do it easily and properly. There is no need to be worried about calling an operator or technician because you will definitely be able to install it independently.
However, I need your full attention and focus that you will keep until the end of reading this post.
And if you will do so, you will end up learning how to install mounting dream tv mount. Let's start installing this TV.
Also Learn: How To Hide Cable Box And Still Use Remote? | Technical Guide In 2022
Making Sure Of The Stuff Before Installation:
Before you take your step into installing this type of TV, you need to make sure certain things exist with it. These are shown in the below-given table.
| | | |
| --- | --- | --- |
| Requirements | If Available | If Not Available |
| Make sure your TV comes equal to or greater than the 200x100mm/8×4 and equal to or less than 600x400mm/24×16 | Mounting possible | Not appropriate for this mounting |
| Is your Tv weigh less than 100 LBS(45.5 KG) | Mounting Possible | Not appropriate for this mounting |
Besides that, you need to make sure the following things as well.
Never install your Tv on drywall. However, it is perfect for installing a Tv over drywall with wood studs or if you have a solid concrete wall. Then mounting would be perfect.
Make sure that you have the following tools on your desk on the installation tools side.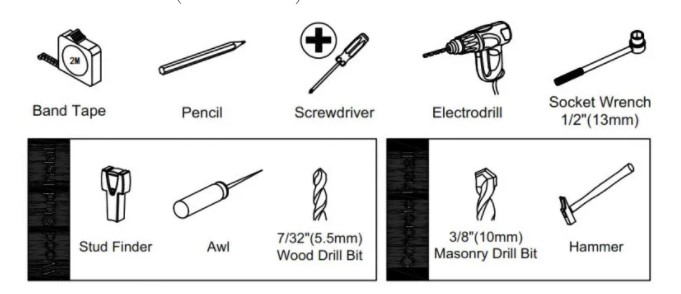 Take Some Safety Precautions:
Before installation, here are some simple and easy-to-understand precautions that you need to keep in your mind before installing the TV. These are given as follows.
The mounting of the dream tv you will find here is only designed to be used for a wood stud or solid concrete wall. Therefore, never install it into drywall that is alone.
Your wall on which you are going to install your Tv must be solid enough to bear or support five times more weight than a tv alone.
You shouldn't apply this tv to any purpose that is not indicated by the mounting dream.
Moreover, installing the tv incorrectly would damage your product, and even you may experience a body injury. Therefore, taking help or hiring an expert for this will be appropriate if you cannot do this on your own.
Step By Step Process For Installing The Dream Mounting TV:
Now, let's go for the DIY process of installing your dream Tv mounting on the wall mount. This process includes the following steps to perform.
Step 1: Start By Attaching The Brackets To The TV:
In this step, you need to install the TV brackets on the Tv. If you do that, you will successfully be able to mount these brackets into the wall.
For this, you will be given a step-by-step instruction guide or installation manual that will come inside the box of your new dream tv.
You can open the box and take the reference where you are guided with the fixing or brackets with the Tv.
It will include plenty of stuff that is described as follows.
Tv brackets you will find in perpendicular size.
There will be a couple of screws you will be using for fixing the brackets.
And you will need spacers for tightening everything.
Select the appropriate screws and fix them on the backside of your Tv. Also, fix them inside the brackets and use spacers if needed for tightening them.
Once the brackets are fixed with screws, use these brackets to fix them with the TV. Combine everything just in the same way you find instructions on the user manual.
Step 2: Attaching The Wall Plate To The Wall:
When you look at the guide, you are awarded within your hand. You can refer to the following pages for different types of installations.
Please refer to Step 2A of the instructional manual if you go for wood stud installation.
And if you install your Tv on the concrete wall, please refer to Step 2B on Page 6.
However, below are some samples you can use as an example to install the tv mount using or referring to that.
If you install the Tv on a wood wall with studs, take the example below.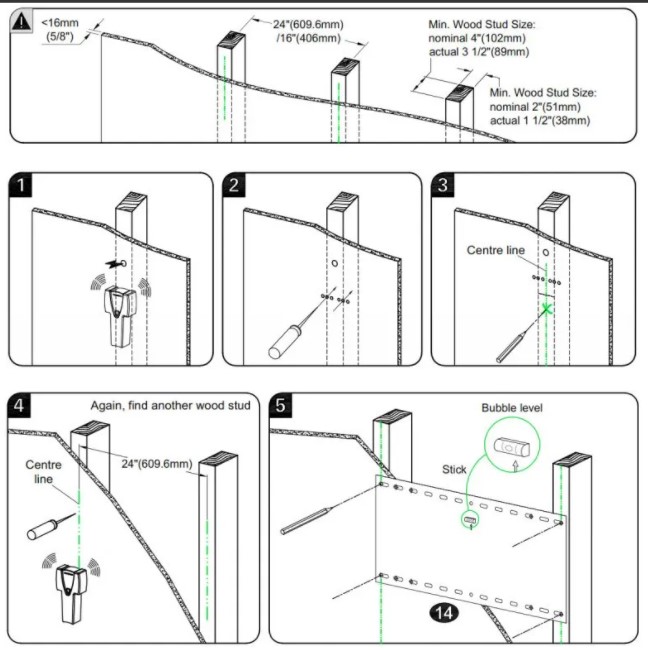 Make sure that you firmly fix the screws and tighten everything so precisely. Otherwise, you will end up not Suring whether it is fixed.
Also, follow step 2 in case of wood stud installation.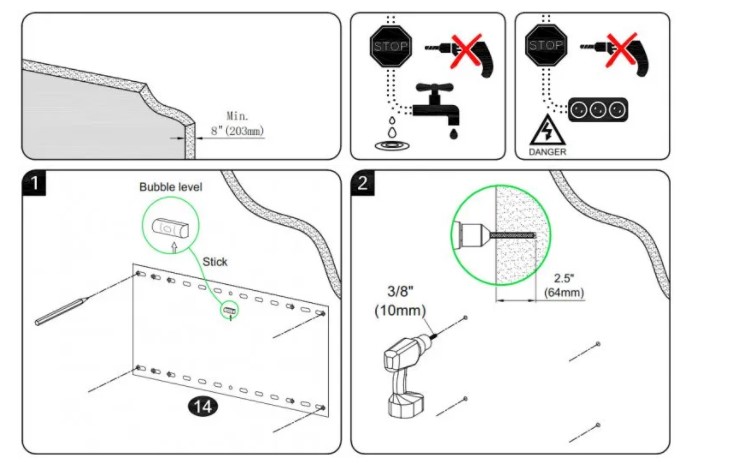 Step 4: Hang The Plate To The Wall:
Now, if you have mounted the wall bracket on the TV, it is time to fix or hang your plate onto the wall. That would be easy as you just need to use the right screws, and you are gonna fix it. Make sure that everything is lined up and tight, and then go to the next step.
Step 5: Make Some Adjustments:
To get your dream tv at your desired place, you can also make some adjustments and fix it at your desired position for watching it. That just needed your hands, and you will be easy on doing so.
In this way, you will successfully install the dream wall mount tv on your wall.
Also Learn: How To Hide Wires For Wall Mounted Tv Over Fireplace? | Best Methods
Wrapping It Up:
Finally, you have learned how to install mounting dream tv mount through simple steps. It requires time and a little hard work to complete stuff like this. And I hope that you have done it properly. However, if you need more help understanding this guide, you can use the comment box to let me know. Overall, thanks for reading and spending time. Take good care of yourself.
Read Other Articles: How To Hide Cable Box And Still Use Remote? | Technical Guide In 2022 How To Hide Wires For Wall Mounted Tv Over Fireplace? | Best Methods How To Hide Cords On Wall Mounted TV In Apartment? | Let's Learn! How To Hide Tv Wires Over Fireplace Without Cutting Wall? | 6 Easy Steps Where To Put Cable Box On Wall Mounted Tv? | Let's Figure Out
Did You find Helpful This Post? Share with other