Regardless of what your friends, colleagues, and family members say, it is always a good idea to switch to a big-screen TV to get a theatre-like experience. But can you mount a 65 inch TV on drywall? If you have the same question, then you are at the right place. Here, we will give you in-depth information about wall mounting a 65 inch TV on drywall with the best method.
The market is full of competition and we have numerous types of TVs present in the market. The high competition directly affects the pricing. We can now easily buy a big-screen TV at a reasonable rate from a trusted company. If you have bought a new 65 inch TV recently, then you must be thinking about the right method to install it.
If you want to mount it on drywall, then there are a few things which you must understand first. Drywall is not a good place to wall-mount a big screen TV as they are made of brittle materials and cannot hold a heavy object. Well, this guide will resolve all your queries!
Also Read: Can You Mount a 55 Inch TV on Drywall? -The Best Solution
Can You Mount A 65 Inch TV On Drywall?
Yes, you can with a few safety tips. If you are planning to mount 65-inch drywall, then here we have provided some safety tips for you. Drywall is not designed to hold heavy objects and so does your big screen TV.
But with proper technique and the right equipment, you can safely mount a 65 inch TV on drywall. You have to face some challenges while installing a TV on drywall. For that, you have to follow the list of tips given below: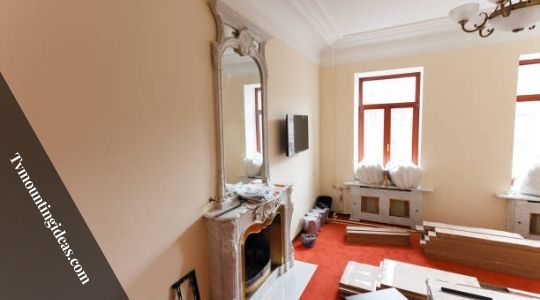 Tips To Mount A 65 Inch TV On Drywall
Tip 1: Pick the Right Mount Stand
In general, all TVs come with the VESA Standard for mounting them on the wall. You should check about the mounting technique which your TV support. You can go through the user manual to know more about how you can wall mount a newly bought TV.
You will not get a wall-mount stand inside the box of your TV. For that reason, you need to pick a suitable mounting stand from the market. Fixed mounting stands, swivel stands, hybrid stands, ceiling hanging stands, and many other types of mounting stands are present in the market.
You need to check the compatibility of the stand with your TV. You also need to check whether the mounting stand suits your requirements or not.
2. Use Toggle Bolts
Instead of using the standard screws, we would suggest you go with the toggle bolts or plastic anchors. Plastic anchors are highly recommended to wall mount a TV or any other objects on drywall.
However, Toggle Bolts are stronger and fit perfectly well with the wall's backside. Besides toggle bolts, you can also go for the molly bolts. Depending on the condition of your drywall, you can go with a suitable method to hold the TV bracket.
Toggle bolts are designed to give the required strongness to the objects from the backside of the wall. Toggle bolts are highly recommended by experts. If you call up an expert installer, he would suggest you go with the toggle bolts only.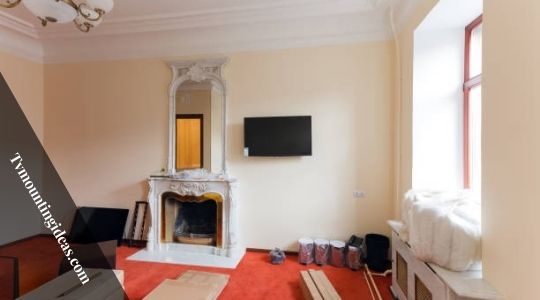 3. Use Studs for TV Bracket
When it comes to wall mounting a 65 inch TV on drywall, you need to think about the strongness of the drywall. Drywalls generally hold up to 5kgs of weight. If your 65 inch TV is heavier than the required weight, then you should not go for this method.
The new generation TVs are lighter than the previous generations. Still, you need to check the weight of the TV before you install it.
You can use the studs to fix the main bracket of the TV stands properly on drywall. You can't install the entire TV stand along with the brackets using the studs only. For that, you need to use toggle anchors, molly bolts, or plastic anchors to hold the bracket and the stand properly.
Frequently Asked Questions
How do I know my 65 inch TV's mounting technique?
Generally, all the TVs follow the VESA standard for mounting them to the wall. However, if you are still confused about the mounting technique of your new 65 inch TV, then you can follow the user manual that comes inside the TV box.
The user manual gives you all the details about the mounting technique and everything you might want to know about your TV and its operations.
Do I have to check the Drywall's condition first?
Yes, you need to check the condition of your drywall first. If the drywall is very thin, then you should not go for the wall mounting method. Instead, you can go for the standard leg stand that comes inside the TV box.
How much weight can a drywall hold?
As per the study, drywall can hold up to 10 pounds of weight safely. If your 65 inch TV's overall weight is less than 10 pounds, then you can hang it onto the drywall safely.
I have no idea about installing a TV. Should I call up an expert to do so?
If you are a DIY enthusiast and have basic tools, then you can easily wall mount a TV by following the simple steps.
However, if you are not confident enough, and have some queries regarding the condition of the wall, then calling up an expert is the best way to do so.
Also Read: How High to Mount a 55-inch TV on Wall?-Step By Step Guide
The Final Words
Can you mount a 65 inch TV on drywall? Hope you got your answer now! We have tried our best to give you a satisfactory answer in the above article. What you can do here is follow the given tips from the article, get your basic questions resolved by following the FAQs section, and then mount your 65 inch TV on drywall safely! For any queries or feedback, you can use the comments section given below this post.
Read Other Articles: Can You Mount a 60 inch TV on Drywall? – Quick Method Can You Mount a 55 Inch TV on Drywall? -The Best Solution Glass TV Stand with Mount Assembly Instructions-(Complete Guide) How High Should A 32-Inch TV Be Mounted?-Need to Consider This! Samsung Tv Mount Screws Don't Fit- The Ultimate Solution
Did You find Helpful This Post? Share with others