TV mounts are expensive and for that reason, most people consider installing a TV on their own with different methods. Installing a TV on the wall is easier than ever with proper information about the suitable method. "Can you hang a TV with Command Strips?" is one of the most asked questions by DIY TV installers.
We, there are many ways to hang a TV in your drawing room or bedroom. One such way to install a TV is by using strong adhesives and command strips. Today, we will learn about how to use command strips and is it possible to hang a TV with them?
When you ask the experts, they will recommend going with the standard drilling method to wall mount a TV. Wall mounting is still the safest way to mount a TV on the wall. However, some users want to try out different methods to hang a TV. Let's find out the right answer.
Also Read: Cost To Mount TV On Stone Fireplace? | Let's Figure It Out!
Can You Hang A TV With Command Strips?
When you search for ways to wall-mount a Tv without holes, you will be presented with plenty of methods. Out of all the suggested methods, one of the easiest methods to try out is using strong adhesives or strong tapes.
Strong adhesives for wall-mounting a TV is not highly recommended as it is not safe, the TV might fall without your knowledge anytime after you stick it to the wall using a strong adhesive. However, lightweight TV can still stick strongly to the wall using the command strips or we can say strong adhesives.
If your TV's overall weight is less than 16 pounds, then you can use command strips or strong adhesives to hang it wherever you want. However, if your TV is big in size and high in weight, you should not consider this method.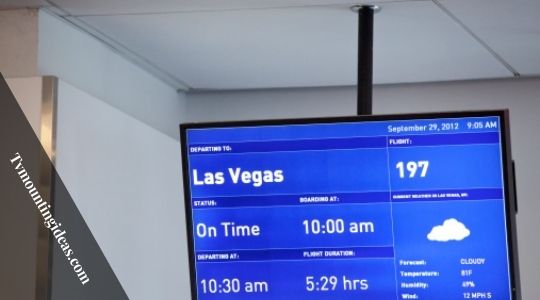 You can try out different ways to wall-mount a TV without holes. Still, we would suggest you go with the standard wall-mounting method.
The command strips can hold up to 16 pounds of weight with a pair. You can't stick a 16-pounds TV on a single command strip. To hang a TV, you must use a pair of command strips so that the Tv unit can fix properly onto the wall.
For the extra safety of your TV, you are requested to use some extra command strips. Extra strips give you extra safety and there will be fewer chances of your TV to fall afterward.
If you are wondering about how to use Command Strips to Hang a TV, then here we have explained the procedure with step-by-step guidelines.
How To Hang A TV With Command Strips?
Command Strips are double-sided sticky tapes that let you stick anything on the wall. Just remove the upper cover of the strip and stick it to the wall. The other side of the tape will be fixed directly onto the TV. Let's see how you can use the Command Strips to Hang a TV.
Note: Use Command Strips only if your TV is less than 16 pounds of weight. Ideally, a 24-inch Tv is suitable to hang using the command strips.
Steps To Hang A TV With Command Strips
Step 1:
Take a 24-inch TV with the standard Vesa mounting function.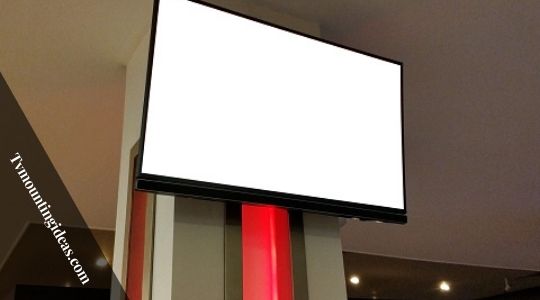 Step 2:
Mount the TV to the Vesa board that comes with the Tv.
Step 3:
Now, take the multiple command strips. Remove their front cover and stick them thoroughly to the mounting board.
Step 4:
After this, clear the location where you want to stick your TV.
Step 5:
Remove the cover from the other side of the strips and then stick the tapes to the wall. Press the TV properly so that the strips can be fixed properly to the wall.
Frequently Asked Questions
How Do Command Strips Work To Hang A TV?
Command Strips are double-sided tapes with strong adhesives. To stick a 24-inch Tv, you need to remove the front cover and stick it to the Tv's backside and the other side of the tape to the wall.
This way you can easily hang a 24-inch Tv to the wall with no external tools required.
Can I Replace The Command Strips After Some Time?
No, you can't! Once the command strips are fixed, you can't replace them. You have to remove the entire strip or if you have used multiple strips, you have to remove all of them and use new strips to stick things.
How Can I Mount A TV Without Holes?
You can use strong adhesives, command strips, toggle anchors, etc to wall mount a Tv without holes. You can even use a hybrid stand to wall-mount a Tv.
A hybrid stand is highly recommended to those who don't want to drill holes into their walls. Hybrid stands come with many benefits and give you much more flexibility to hang your TV wherever you want.
Why Command Strips Are Not Recommended By The Experts To Hang A TV?
Command Strips have strong adhesives on both sides to stick and hold things wherever you want them to stick. However, the limit of holding weight by the command strip is limited.
As per the experts, you can hang a 24-inch Tv with less than 8 pounds of weight using command strips. If you have a large and heavyweight Tv, you should not go for this method.
Also Read: How To Lift A Heavy Tv To A Wall Mount? | Find By Yourself!
The Final Words
Can you hang a Tv with Command Strips? – Command Strips are a reliable solution to hang a small-sized flat tv. They come with strong adhesive and can hold your TV safely. However, if you are concerned about the safety of your TV, then consider using a different method to wall-hang your TV as this method is not safe.
Follow the above-given steps to hang a lightweight TV. You can use multiple strips to add extra strongness and safety to the TV unit. If you have any queries regarding this, let us know in the comments section given below this post!
Read Other Articles: How to Mount a TV above the Fireplace and Hide Wires?-Complete Guide How to Hang a Flat Screen TV Without Mount?-(Follow 3 Easy Methods) Does Mounting TV Damage the Wall?-(Know the Truth) How High Should an 85 inch TV be Mounted?-(Need to Know This) How to Assemble TV Stand with Mount? – The Easiest Way
Did You find Helpful This Post? Share with others